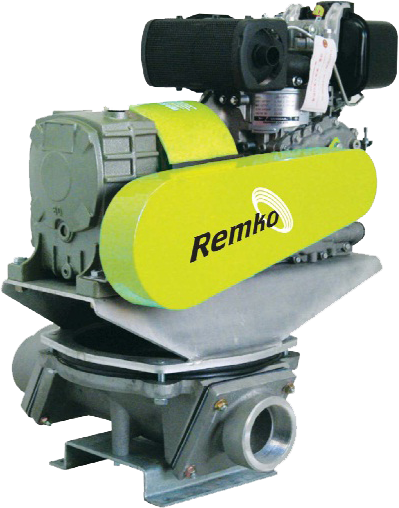 The Remko RD Petrol/Diesel Series Diaphragm Pumps incorporate a heavy duty gearbox coupled to an eccentric block to actuate the diaphragm, making them appropriate for heavy-duty applications.

The pump is belt-driven by pulleys which enables it to use a variety of petrol and diesel engines for 2" and 3" pumps. With the ability to self-prime, handle solids and run dry, they have a wide range of applications.

Specifications
Sizes: 25-76mm
Solids Handling To 50mm
Will Run Dry Without Damage
Heads To 6m
Flow Rates To:210L/min
Suction Lift To 7.5m
Self Priming
Petrol/Diesel engine enables increased portability
Remko: A Leading Supplier of Diaphragm Pumps in Australia
When the job relies on a heavy-duty pump to remove water or liquid waste, you can rely on Remko to deliver top-quality diaphragm pumps in Australia that are up to the task. Whether you need diaphragm pumps for an industrial site, your agricultural business or a building project, we have high-quality pumps that won't let you down, no matter how big the job is. Our pumps are built to withstand continuous use; we understand that when a pump fails, it can set your project back for days. It may even create a serious health and safety issue and that's not good for any type of operation.
Our diaphragm pumps are designed with a twin membrane and operate through air and liquid disbursement and can be used in all kinds of settings, from chemical plants to the construction industry. Read More
What is a Diaphragm Pump?
Also known as a membrane pump, a diaphragm pump is powered by air and is designed to transport fluids. As they are self-priming, they are especially suitable for viscous liquids, including more abrasive fluids such as chemicals, acids and concrete. Within the pump are two flexible membranes that are connected by a central shaft that creates a separation between the fluid and the compressed air. Most industries, including mining, chemical processing, ceramics, oil and gas, and water and wastewater facilities use diaphragm pumps.
How Does a Diaphragm Pump Work?
The central shaft of a diaphragm pump moves back and forth repeatedly to pump the fluids into and out of the fluid chamber. As a result of this movement, a vacuum is created which pulls fluid into the product chamber through an inlet port. As compressed air pushes the diaphragms back to their original positions, this fluid is expelled from the chamber through an outlet port. The cycle is repeated continuously while the pump is in motion. Diaphragm pumps are self-priming to ensure continuous, uninterrupted use and will suffer no ill effects even if they run dry.
Why Choose Remko for Your Industrial Diaphragm Pumps?
Remko is underpinned by over 100 years of industry experience, which we've used to create some of the most robust diaphragm pumps for sale in Australia. We understand how pumps should work and can offer simple solutions to pumping problems that actually work. Our pumps are created using high-quality and reliable components from around the world and assembled using the experience and expertise that Remko is known for.
Just like all our pumps, our industrial diaphragm pumps are an extremely effective solution for all kinds of businesses and can be used in multiple settings, from industrial to agricultural. They're built to handle all kinds of abrasive and corrosive liquids and have the ability to pass solids that are 4/5ths of the size of the port. There's also a range of optional extras, including a choice of pump sizes, diaphragm materials and electric motor enclosures, which enable us to put together a pump that's specific to your needs.
Order Your Diaphragm Pump from Remko
Order a diaphragm pump, electric diaphragm pump or mechanical diaphragm pump, from us and you'll not only get a high-quality pump, but you'll get the benefit of our years of experience and pumping expertise. We're happy to talk through your needs and put together a customised solution that works for your business and your budget. Get in touch either by completing the enquiry form or give us a call on 1800 333 424 and let's get your pump started! Read Less
For more information on Petrol/Diesel Diaphragm Pumps please fill out the enquiry form below and one of our friendly staff will contact you as soon as possible
Alternatively, give us a call on 1800 333 424
 Find brochures, pump curves and maintenance manuals for the Remko range on the Downloads Page 
HERE