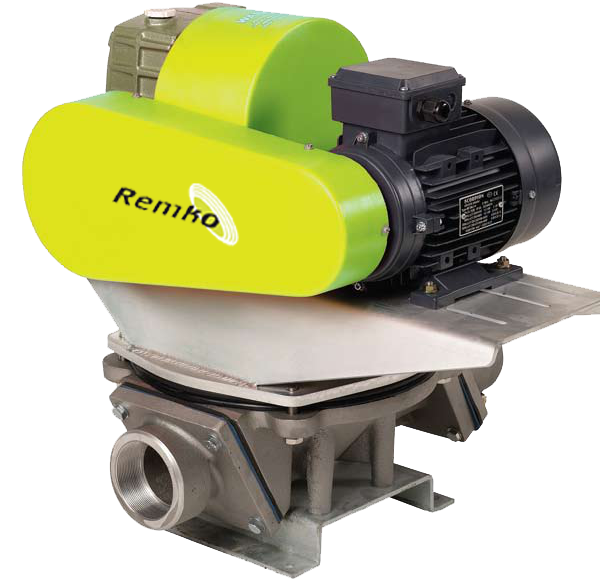 The Remko RD Electric Series Diaphragm Pumps incorporate a heavy duty gearbox coupled to an eccentric block to actuate the diaphragm, making them appropriate for heavy-duty applications.

The pump is belt-driven by pulleys which enables it to use a variety of electric motors for 2" and 3" pumps. With the ability to self-prime, handle solids and run dry, they have a wide range of applications.

Specifications
Sizes: 25-76mm
Solids Handling To 50mm
Heads To 6m
Flow Rates To:210L/min
Suction Lift To 7.5m
Rapid Self Priming
Will Run Dry Without Damage
Will operate on snore
Will handle abrasive liquids

Will pass solids up to 80% of port size

Heavy-duty, compact construction

TEFC electric motors fitted as standard

Special electric motor enclosures as an option
| | | | | | | | | |
| --- | --- | --- | --- | --- | --- | --- | --- | --- |
| Model | Connections | Nominal Flow Rate | Approximate Displacement Per Stroke | Suction Lift | Discharge Head | Solid Size | Motor Size | Weight |
| RD025 | 25mm (1") | 16-25 L/Min | 0.54L | 7.5m | 6.0m | 15mm | 0.37kW | 25kg |
| RD032 | 32mm (1 ¼") | 33 L/Min | 0.85L | 7.5m | 6.0m | 20mm | 0.37kW | 30kg |
| RD038 | 38mm (1 ½") | 50 L/Min | 1.5L | 7.5m | 6.0m | 25mm | 0.75kW | 42kg |
| RD050 | 50mm (2") | 100 L/Min | 2.14L | 7.5m | 6.0m | 35mm | 1.1kW | 55kg |
| RD076 | 76mm (3") | 210 L/Min | 5.25L | 7.5m | 6.0m | 50mm | 1.5kW | 72kg |
Get Your Next Electric Diaphragm Pump Here!
When it comes to jobs that require heavy-duty water or liquid clearance, it is wise to use equipment designed for punishment. Whether you are working on an industrial site, a building project, or in an agricultural setting, your ability to displace liquid waste is critical and always in use. If the pumps you are using fail, however, it can set your project back many days or cause a serious health and safety risk, which can ruin your operation.
It is for this very reason that an electric diaphragm pump might be just the thing you need in your warehouse, excavation, or farm. These pumps use a twin membrane design and air and liquid displacement operation and are used in countless settings, from the construction industry to waste treatment and chemical plants. With a robust design made from high-quality materials, they are built to withstand the punishment equipment undergoes in these sectors. Read More
Multiple Applications
Remko has links to pumping technology that stretch all the way back to the 1920s. So, when you are buying an electric diaphragm water pump from us, you will benefit from a century of expertise and understanding of how pumps should work. In the time we've been in business, we've forged invaluable links to global manufacturers of pumping components, and we have always strived to only select the highest quality parts for our pumps. Once we have found the right elements, our skilled Australian technicians build our pumps to our client specifications.
It is for this growing community of customers that we began to offer our electric diaphragm pumps in Australia. These kinds of pumps have proven to be extraordinarily effective in a number of different capacities, and our goal is always to offer versatile pumping solutions. Like our other pumps, these make use of some of the best materials around, with the bonus of internal membranes that can withstand abrasive or corrosive liquids.
The Benefits of An Electric Diaphragm Water Pump
Self-priming for continuous, uninterrupted use
Ability to run dry without ill effect
Ability to pass solids 4/5ths of the size of the port
There are also many optional extras that you might consider, which include:
Electric motor enclosures
Four different types of diaphragm material
Four different pump sizes
Multiple different sizes and lengths of pipe.
All our electric diaphragm pumps are highly customisable. The above are only a few of the options that you can choose from, and you will find our customisation service can zone in very quickly on your specific needs. We stock a huge number of parts and components, and we have a direct link to all our manufacturers, so if there is something we don't have, we can get it quicker than any other pump supplier in Australia. That means if it is possible, we can build it!
Order your Electric Diaphragm Paump Today!
When you are ready to get started on your order, you need only get in touch. We are always ready to take your order, and you can get in contact with us straight away, either via phone or through our online enquiry form. Take a good look through our product line and provide us with as much information as you possibly can about the project, and we will be able to get right to the heart of the issue and provide you with the perfect solution. We pride ourselves on the quick response and a quick build, so enquire now, and your electric diaphragm water pump will be with you very soon! Read Less
For more information on Electric Diaphragm Pumps please fill out the enquiry form below and one of our friendly staff  will contact you as soon as possible
Alternatively, give us a call on 1800 333 424


 Find brochures, pump curves and maintenance manuals for the Remko range on the Downloads Page 
HERE