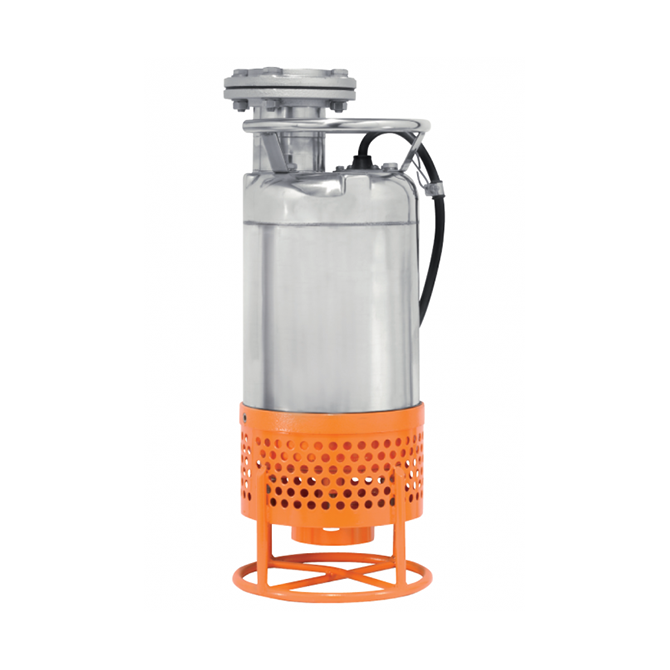 Dewatering Pump
Corrosion-resistant stainless outer cover
Abrasion-resistant HCR impeller and suction cover
Heavy-duty construction
Triplex seal system
Thermal motor protection
Suitable for low water level
Water-cooled motor for maximum efficiency and operating times
Suction agitator available on 1.5 kW – 3.7 kW pumps
Read More
Max head: 37m
Max Flow: 43 L/sec
Dewatering Pumps from One of Australia's Leading Manufacturers
Machinery is usually built with predictability in mind. You never want any surprises with a steadily functioning pump. Naturally, that means our customers want to purchase pumps made by people with expertise. That's doubly true when safety is on the line. When a site requires dewatering, you want to make sure your dewatering pump can run smoothly under various hazards and properly drain the area. That requires some heavy-duty construction, proper cooling, and motor protection, among other things. You'll want to work with a company that not only provides a pump with all the right specifications but also provides its services quickly and consistently. If you have a construction deadline to meet, you don't want to hear that your pump's replacement part will take a week or more to arrive. If failing to dewater immediately poses a safety risk, the last thing you want to hear is that your pump can't be set up right away.
Why Choose Remko's Dewatering Pumps
Our top Priority at Remko Pumps is customer service. If you need us right away, we want to be there right away. If you have a deadline to meet, we want to make sure it's met with time to spare. If something's faulty, we want to repair it well before it breaks down. This is the business model that's allowed us to become leading pump suppliers in Australia, with affordable solutions that wipe out any potential delays to your production. If you're looking for a pump manufacturer that understands and caters to your rigorous schedule, you're in the right place.
Features of Our Dewatering Pump
Our dewatering pump is built to withstand the chemical and physical conditions typical in various mines, quarries, building complexes, and construction sites. The water-cooled motor combined with the thermal protection allow the pump to function with virtually no risk of overheating or being damaged. Meanwhile, the outer casing and suction cover of the pump are reinforced stainless steel, resistant to corrosive substances as well as oxidation. The pump will do its job for years with the right cleaning and maintenance.
Know Your New Machine
And you'll know about the right cleaning and maintenance with plenty of helpful advice from us. When you order a pump from Remko, we make sure you know how to make the most of it, both by providing you with plenty of advice on upkeep and by offering service contracts to handle the maintenance ourselves. You won't need to worry about recognizing signs of potential damage or the need for cleaning; we'll make sure you know everything that's needed.
Check Out Our Blog for More Info About Dewatering & Other Types of Pumps in Australia!
If you'd like to learn more about maximizing your pump's usage and benefits than what's necessary, our blog has many helpful articles on everything from dust suppression to sand washing applications. self-priming pump models.
We're Here to Help
If you'd like to begin ordering one of our dewatering pump models for your site, simply click on "Enquire Now!" to get started. You can also call us at 1800 333 424 for more general enquiries or concerns. Read Less
For more information on our Dewatering Pumps please fill out the enquiry form below and one of our friendly staff  will contact you as soon as possible
Alternatively, give us a call on 1800 333 424